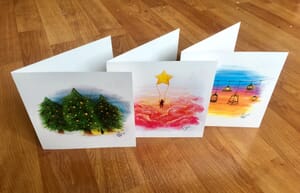 Spread the Light! Send unique cards to you friends and family or clients.
You can order them per piece, or in a set of 9 (of the same design).
When you want to order more than one piece or set, you can go back to this page, the shop will remember your shopping cart.
If you want to order a larger amount of cards, you can also put customized text (Like your company name or a slogan) on the front for free. Send an email to info@sue-artstudio.com if you want this.
Shipping: International shipping is possible, shipping in the Netherlands is pretty fast (+-2 days), unfortunately the shop is only available in Dutch.
If you have any trouble ordering, just send me a message on social media or an email and I will help you. 
(Including envelopes!)